We recognize that all of our patients are unique and deserve to receive orthodontic care that reflects their individual needs. Our experienced and talented team is committed to working with you and your family to create a comfortable, stress-free, and rewarding orthodontic experience every time you visit our practice. We are pleased to welcome you and your family, and we look forward to working with you.
---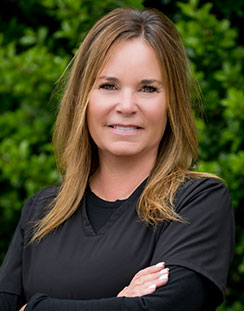 Ronda
Office Manager
Ronda is the office manager at SMB Orthodontics, where she runs the office, and manages customer service, marketing, and HR. Ronda began her career in dentistry in 1990 and learned everything from on-the-job training and the guidance of Drs. Burk and Flinn. Ronda loves meeting patients and seeing how their smiles transform over time. She has made lifelong connections with many patients who now bring their own children to the practice. Managing a team that exceeds expectations and provides extreme customer service is one of her passions.
Ronda has been married for 31 years and has three grown children, two sons, Max and Billy, and one daughter, Ashley, all of whom were patients of the practice, including her husband. Ronda also has a 12-pound, snowy white Maltese who is spoiled rotten. In her free time, Ronda enjoys anything outdoors, including hiking, biking, paddle boarding, and boating. She can usually be found by the beach or anywhere warm. Ronda has volunteered for the American Red Cross Shoppers Program, taking elderly individuals shopping and to doctor's appointments. She also participates in food drives, the Donor Dash, and the Avon Walk, and was a board member of the PTA when her children were in school.
---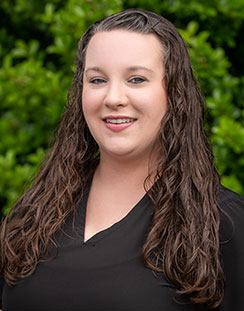 Brandy
Treatment Coordinator
Brandy has been a treatment coordinator at SMB Orthodontics since 2017. She is responsible for handling new patient calls and initial exams, treatment conferences, presenting financial options, and scheduling appointments for treatment. She follows up with patients to help them with any questions they may have. She has always been fascinated by orthodontics, having a great experience with her own treatment while growing up. She finds it rewarding to see patients who were initially insecure about their teeth excited to show off their amazing smiles after treatment.
Brandy has three rescue pups named Franklin, Willow, and Linus. Brandy and her husband have been married for over ten years and they love to spend time with her family and binge-watch series on Netflix and Hulu.
---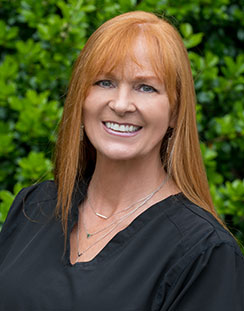 Vickie
Clinical Coordinator
Vickie is the clinical coordinator at our practice, with oversight of the clinic, helping to navigate the doctor, and assisting other staff with procedures while providing care for her own scheduled patients. She began working in dentistry in 1986 and has undergone numerous courses of study, and intense on-the-job training, and is certified in Expanded Duty Functions Assistant on Orthodontics (COA) and as a certified Dental Radiologist (RHS). Vickie's passion for orthodontics began while working for an orthodontist in Pittsburgh, PA, who was very passionate about the field. Finding a love for orthodontics, she expanded her interests into fabricating retainers, expanders, and all appliances ranging from acrylic to soldering. Three years ago, Vickie opened up her own orthodontic lab, and her interest and dedication show in her work. To Vickie, orthodontics is an art both in the clinical setting as well as in the lab. She found her passion in orthodontics.
Vickie's life is full with two grown boys that have their own careers and are very productive. She considers her job as a mom to be very successful and rewarding. She has a pup named Bailey, who is a golden lab and loves everyone. Her own orthodontic lab, which is in her home, keeps her extremely busy. Her lab is her hobby, and she thoroughly enjoys the "work." Vickie enjoys traveling and exploring with friends to new places.
---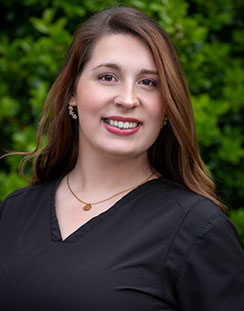 Paige
Clinical Assistant
Paige joined this practice in 2016. As a clinical assistant, she performs a variety of orthodontic procedures. She is also a periodontal and oral surgery assistant, as well as RDA and Expanded Functions certified. She completed a 13-month dental assisting program at Fortis Institute. Paige enjoys meeting and getting to know her patients and their families. She loves being able to see her patients' smiles and confidence transform throughout their treatment. Paige is proud to be part of such a special, hardworking, and loving team who strives to give the utmost care to their patients and carry out Dr. Flinn's vision for the practice.
In her free time, Paige loves spending time with her four-year-old daughter and fiancé doing fun science experiments, going to adventure parks, and enjoying movie nights at the theater. She also has two silly orange cats named Scooby and Mouse.
---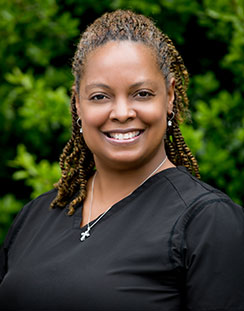 Bernie
Clinical Assistant
Bernie is a clinical care assistant at SMB Orthodontics, working alongside Dr. Edwin Lee to provide quality care and educate patients for the best orthodontic experience. Bernie has been working in dentistry since 1987 and joined the SMB Orthodontics team in 2020. After completing high school, Bernie attended Medix School in Silver Spring, Maryland, where she studied and completed the Dental Assistant and Radiology program and passed the DANB exam. To maintain her license, she takes continuing education courses annually. Bernie is dedicated to providing excellent care for her patients and ensuring they have a comfortable and enjoyable experience at the practice.
When not at work, Bernie likes to head to the beach in her free time and hang out with family and friends. You could also find her watching baking competitions and practicing her cake-decorating skills.
---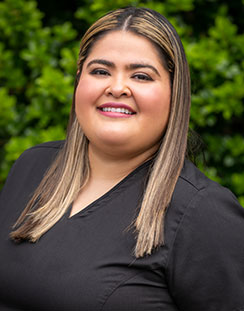 Karen
Clinical Assistant
Karen is a clinical care assistant who has been working in dentistry since 2011 and with SMB Orthodontics since 2020. She brings a wealth of experience and knowledge to her role at the dental practice. Karen is passionate about providing high-quality care to her patients and takes pride in her work. She works closely with the rest of the dental team to ensure that every patient receives the best possible treatment. Karen enjoys getting to know her patients and helping them feel comfortable and relaxed during their visits.
In her free time, Karen likes to travel and explore new places. She also enjoys hiking and spending time with her family and friends.
---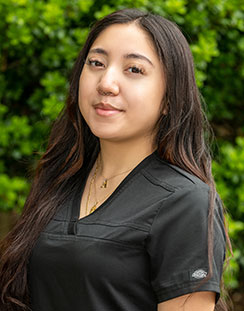 Amina
Front Desk Coordinator
Amina will be the first person to greet you as the front desk coordinator at SMB Orthodontics. Her main responsibilities include scheduling appointments and handling patient communication. Amina's favorite part of her job is creating memories with both staff and patients. She loves working in such a welcoming environment where everyone feels like they belong.
Amina is a fast learner and an outgoing person who loves having conversations with everyone and getting to know them on a personal level. She always greets patients with a smile and makes them feel welcome as soon as they walk in.
---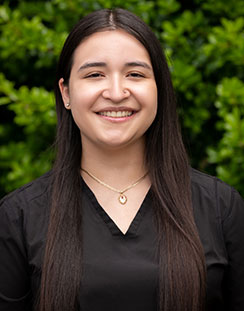 Dhayanna
Clinical Assistant
Dhayanna has been working side by side with Dr. Lee at SMB Orthodontics since 2022 to ensure their patients receive the best quality work. She graduated from dental assisting school in January 2020 and received her radiology license in August 2022. She also received her Expanded Functions Orthodontics License in July 2022. Dhayanna worked in general dentistry from January 2020 to January 2021 and has been working in orthodontics since then. Her favorite part of the job is gaining the trust of her patients. She enjoys working with Dr. Lee and their team because they all strive to provide the best experience for their patients.
Dhayanna has a one-year-old puppy named Chico and a one-year-old tuxedo cat who demands a lot of her attention. In her free time, she loves reading fiction novels based on suspense and fantasy fiction and watching cooking/baking and comedy shows.
---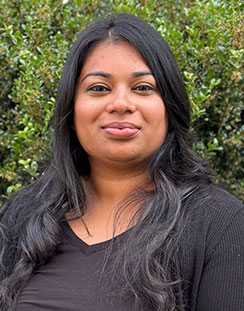 Liz
Financial Coordinator
Liz is the financial coordinator for SMB Orthodontics. Her role is to speak with patients and their families to come up with a plan for orthodontic treatment that fits into their budget and to help them understand their insurance. Liz loves working with Dr. Lee because he is a caring and compassionate orthodontist with years of experience, who always puts his patients first.
Liz and her husband have a toddler who keeps them on their toes. In her free time, she loves going to the beach, reading, and cooking. She and her husband also enjoy giving back to our community. We often prepare meals for the local soup kitchen and participate in the Frederick Rescue Mission Adopt a family program.
---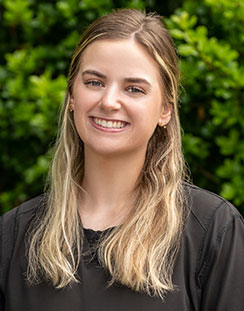 Whitney
Front Desk Coordinator
Whitney is our front desk coordinator at SMB Orthodontics. Her main responsibilities include scheduling and patient communication. She takes pride in getting to know each and every patient who walks through our doors. Whitney is absorbing everything she can about the medical field at SMB Orthodontics before she jets off to pursue her dream of becoming a pediatric oncologist.
Whitney is a big fan of sports, both playing and watching. She has played fast-pitch softball for 18 years as an infielder and pitcher. When she's not at work, you can find her hanging out with her best friends and family or enjoying the ocean.
---