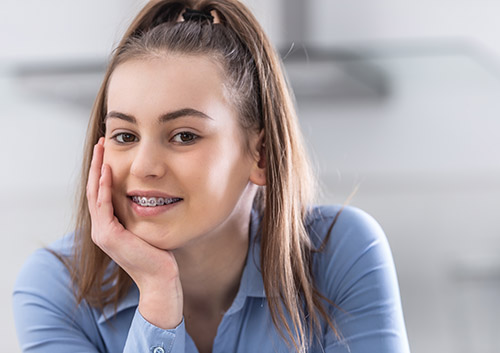 Just like that, it's almost summertime. As the spring season ends, perhaps these lighter, brighter days are inspiring you to do a bit of last-minute spring cleaning. Or perhaps they're not. No judgment here!
What Drs. Burk and Flinn can recommend wholeheartedly is finishing the season with a clean, sparkling smile. And we have some bright ideas for you!
Refresh Your Cleaning Technique
Tooth brushing can become so automatic that we don't think about the basics anymore. And suddenly, we've finished brushing in half the time we used to, and, hey, how long has that floss been sitting on the counter, anyway?
Now that you're in orthodontic treatment, it's more important than ever to keep your teeth their cleanest:
Plaque acids can strip minerals from your teeth. If you don't clean around your brackets thoroughly, plaque buildup can leave discolored spots on your enamel.
If a cavity develops, treatment could require removing part of your braces. This means extra appointments and a delay in your orthodontic schedule.
So, let's review the brushing basics for a clean and healthy smile.
Spend two minutes brushing, at least twice each day. Drs. Burk and Flinn might suggest brushing after every meal to make sure food doesn't stick to your teeth and braces.
Make sure you reach all the surfaces of your teeth, inside, outside, and on top of your molars.
Use short, gentle brush strokes, covering a tooth or two at a time.
Angle your brush to clean along the gum line. Plaque around the gums leads to irritation and inflammation, and is a common cause of gum disease.
Use vertical strokes to clean the inside of your front teeth.
Floss at least once each day, or as recommended by your orthodontist.
Special Jobs Require Special Tools
Since we're tidying up, let's talk about some helpful cleaning tools. The right tools make removing plaque a lot easier.
There are toothbrushes designed especially for braces, with angled heads, longer handles, and different bristle arrangements. Whether you try a new design, or stick with your old favorite, replace your brush whenever necessary.
After three to four months of brushing, your toothbrush bristles start to break down. Frayed and matted bristles can't clean as effectively as a toothbrush in top shape. Electric toothbrush heads can wear down more quickly because they often have shorter bristles. Each change of season is a good time to remind yourself to change brushes.
Extra tip: Buy a brush with soft bristles. Even medium bristles can cause enamel abrasion.
If you wear braces, check out the floss options made just for you. Floss threaders help you thread floss under wires. Or try floss which comes in pre-cut strands with a stiff tip to thread the floss through wires more easily. You might find that an orthodontic flosser, a small piece of floss attached to a thin plastic handle, is the easiest way to clean between your teeth. Experiment until you find your most convenient and effective floss.
These tiny cone-shaped brushes fit snugly and comfortably between the spaces of your teeth to remove plaque.
Water flossers are high-tech tools that use a pulsing stream of water to clean between and around the teeth. They're particularly helpful if you have traditional or lingual braces.
Your Drs. Burk and Flinn can suggest the best tools for the cleanest teeth. And speaking of your dental team . . .
Some Cleaning Jobs Require Professional Help
Wearing braces doesn't mean you should skip cleanings—in fact, it's more important than ever to make sure that all the plaque that has built up around brackets and wires is removed. Your hygienist knows how to work with your braces for an effective and braces-friendly cleaning.
Spring's coming to an end, but taking care of your dental health is always in season! A clean smile isn't just a more confident smile, it's a healthier one. Talk to our Rockville and Olney, MD team for more tips to create your best and brightest smile at any time of year.