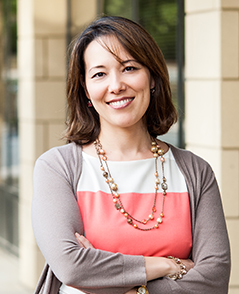 Dr. Wanda Flinn has been named a "Top Orthodontist" multiple times in Washingtonian Magazine and Washington Consumer Checkbook. She is passionate about giving her patients beautiful, healthy smiles and improved self-esteem. In addition to her work at Burk & Flinn Orthodontics, she is also a member of the prestigious Lancaster Cleft Palate Clinic interdisciplinary team. Her research related to craniofacial growth has been presented and published in journals internationally. She is a graduate of the Temple University orthodontic residency program, as well as Virginia Commonwealth University Dental School, where she graduated with high honors.
Dr. Flinn continues to expand her knowledge by constantly taking courses well beyond those required for her licensure. She has completed several rigorous programs at the respected Spear Education Center, Dawson Center for the Advancement of Dentistry, and the Pankey Institute for Advanced Dental Education. She lectures frequently to members of the dental community to share her expertise, and she is invited annually to teach orthodontic residents at Howard University.
When she's not moving teeth, Dr. Flinn loves to move people's hearts through music. She has sung for Queen Elizabeth, performed at Carnegie Hall, and entertained locally with the British Players, the Victorian Lyric Opera Company, and the Choral Arts Society of Washington. She also enjoys spending time with her husband Ed (who is also an orthodontist), and her two young daughters, Amanda and Sophia.